A couple exciting updates to share with you -
A little holiday love from my craft room and my kitchen.
We'll start with the craft room first, because I feel like it.
Since the holidays have hit us, and Christmas crap has already invaded every retail establishment, I've got the bug.  I decided that this year I would retire my 10 year old wicker wreath with the crappy wire ribbon bow (total cost $3), and would bump it up to something a bit more classy – I'm a crafter, dammit, I can do better than that.  So off to pintrest and google I went. And VOILA, I made this gorgeous wreath with 1.5 yards of felt (most felt at stores are plastic now, people, not the stuff our parents used to use, this will not shrink or bleed!) and a couple squares of red and green felt, and a gorgeous wreath!  Followed the tutorial from this awesome blog for the wreath and this one for the flower.
 Now, My husband was ooing and ahh over this wreath as I worked on it and decided once I was done that it was too nice to put outside, hence this wreath – using the same method but with 3″ squares instead.  Goober. 
 
This reminds me – if you want to follow me on Pintrest, please do!  You can see what inspires me and maybe it will inspire you, too.
Ok, enough of the teasing – on to the kitchen, the best place in the house!
Every winter I put together cookie boxes to ship out to family, and always get rave reviews.  It's been almost 10 years since I have worked professionally as a pastry chef, but the love of baking hasn't left my heart or soul for a moment.  So, after recruiting my lovely husband to help me organize this endevour, we decided to sell Cookie Boxes so anyone who wants can get in on the deal!
Here is the full spiel from my etsy listing (1 and 2 dozen boxes available):
Are you craving home made cookies, full in flavor and filled with love? Is the holiday season running you ragged and can't figure out what to send to those relatives you know they will enjoy? Have a friend or kid at college and want to send them some holiday hugs? Have a client or a customer you'd like to say thank you to?
Introducing the Winter Wishes Cookie Box:
(or as my friends call it "SHUT UP AND GIVE ME ALL YOUR COOKIES" Box)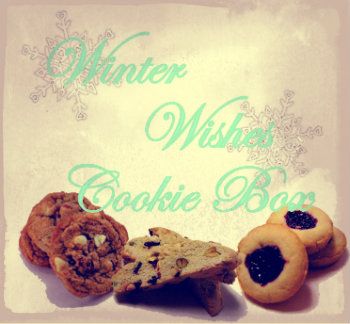 This box of cookies is the perfect elegant and tasty way to show you care (or to give yourself some warm fuzzies, I won't tell) and are thinking of them this season.
There is an option for one dozen or two dozen in a box, please be sure to select the correct listing.
The One Dozen Box will include:
2 Mocha White Chocolate Apricot Cookies
2 Orange Chocolate Madelines
2 Raspberry Shortbread Cookies
2 Salted Caramel Brownies
2 Oatmeal Raisin Cookies
2 Cranberry Pistachio Biscotti
The Two Dozen Box will include:
4 Mocha White Chocolate Apricot Cookies
4 Orange Chocolate Madelines
4 Raspberry Shortbread Cookies
4 Salted Caramel Brownies
4 Oatmeal Raisin Cookies
4 Cranberry Pistachio Biscotti
All packaged in a tissue paper filled white box and adorned with a seasonal ribbon and, if requested, a seasonal notecard with your own personal handwritten message.
How this works:
The last day I will be taking orders is December 2, 2012, and all packages will be mailed out by December 17th, 2012. All orders will be filled at the same time, so please, no special requests for earlier shipping. All packages will be shipped Priority USPS mail with tracking numbers.
I only use fresh ingredients in my baking – REAL butter, REAL eggs, and REAL love.
Note: You don't need a paypal account to order through my etsy shop now, you can pay directly with your credit card, too.
So get your Holiday Big Girl Panties on, and let's get this rolling in the right way, with fancy wreaths and tasty cookies – you can blame all the extra weight on me.  I can handle it.