Mini Addiction:
min·i ad·dic·tion [min-ee uh-dik-shuhn]
noun
the state of being enslaved to the accumulation of 5 gram mini skeins of sock weight yarn to such an extent that its cessation causes severe trauma.
Ok, maybe it's not THAT extreme, but it's an illness that has hit the knitting world like the plague – a warm, woolly, cuddly soft plague. And I have succumbed to the madness. I participate and *gasp* HOST mini swaps to feed my habit.
What is a mini, you ask? It is a 5 gram skein of yarn, usually sockweight,

 used to make such projects as the beekeeper's quilt , the Sock Yarn Blanket, or for something a little smaller, Dianna.
I store the ones for the swaps I host here, in this cool set up my handsome husband set up for me:
This is now completely full, this pic is from about a month ago. ::hanging head in shame::
What this addiction will make you do:
I recently bribed my dear friend into minifying 20 skeins of yarn – yes, 20.  That's a total of 400 minis:
From this:
To this:
Isn't that AMAZING? She did an awesome job, and all within 2 days! THANK YOU, KRISTEN!
I am now hosting mini swaps from indie dyers (the current one is full), but if you are interested in getting in on the next, be sure to shoot me an email or a pm!
Otherwise, if you can't wait long enough for a swap, then you HAVE to check out Radical Notions for her selection of high quality minis.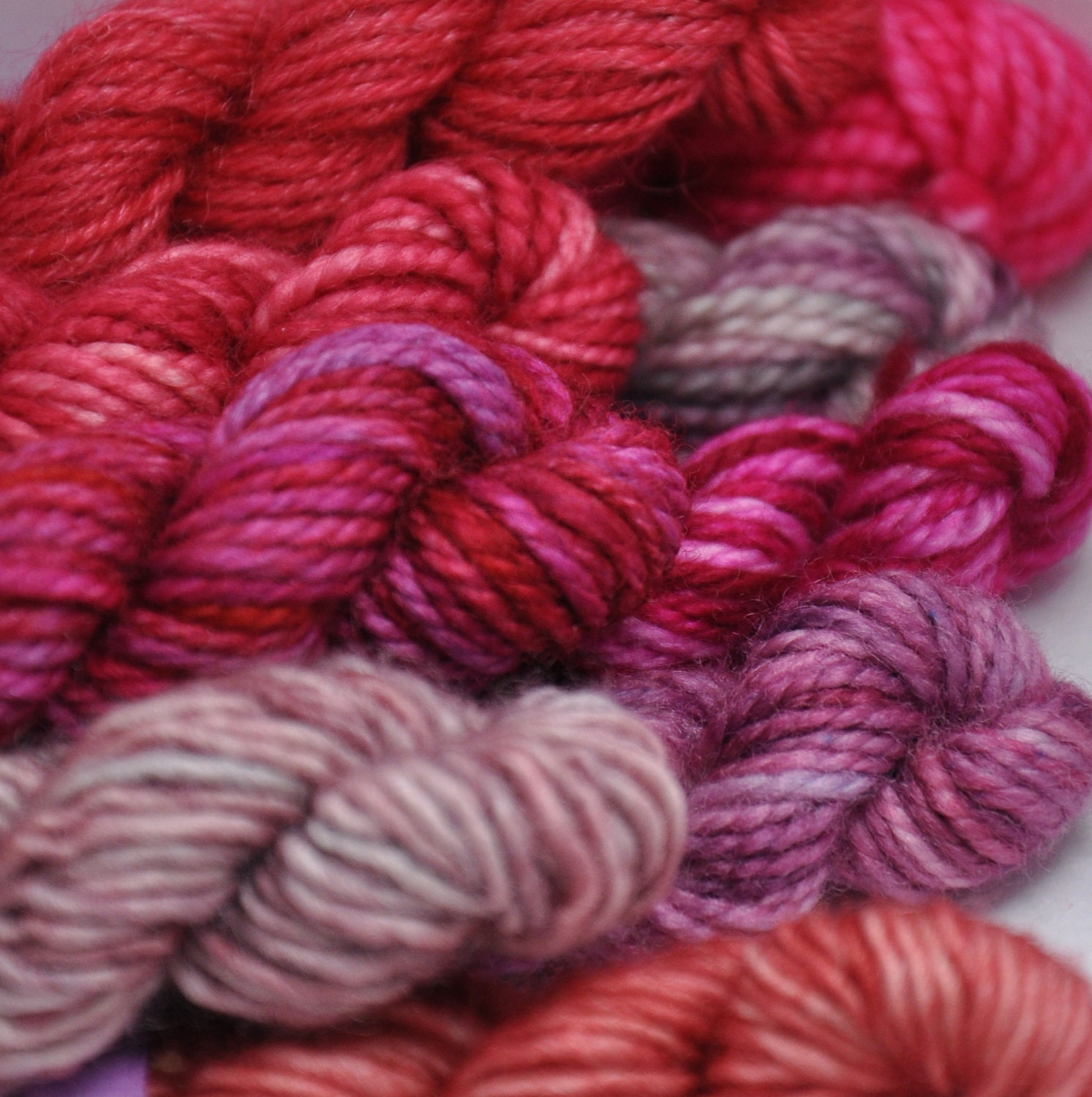 These are from some of the high end dyers out there like Madelinetosh, Sanguine Gryphon and Sunshine Yarns.  What a way to get a sampling to try out a variety of different dyers without breaking the bank!  I'm hoping to set up to sell of some my minis eventually (I can't possibly knit all of these), I'll keep you in the loop!   I have to do what I can to spread this affliction, after all.